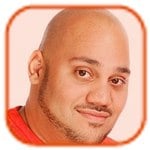 Posted by Andru Edwards Categories: Science, Kitchen Gadgets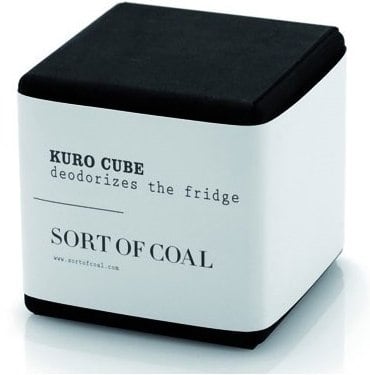 If you want a 21st century method of deodorizing your refrigerator, get ready to throw out that old box of baking soda and pick up the Kuro Cube. the Kuro Cube is a compressed block of white charcoal that specializes in absorbing the smells that you don't wanna smell, saving your nose from the horrid sensory attack you might get hit with whenever you open the fridge. It costs $25, and lasts a good five years, as long as you set it in the sun every now and then so it can get dried out. You can place these in other areas, too, if you want to purify the air in other rooms.
Read More
| Kuro Cube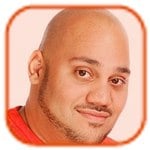 Posted by Andru Edwards Categories: Dessert, Science, Videos
Ever wonder what a cube of Jell-O looks like when bouncing around at 6200 frames per second? Wonder no more, and gaze upon this hypnotizing deliciousness.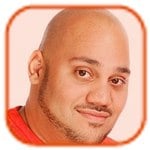 Posted by Andru Edwards Categories: Breakfast, Science, How To, Strange Food, Grains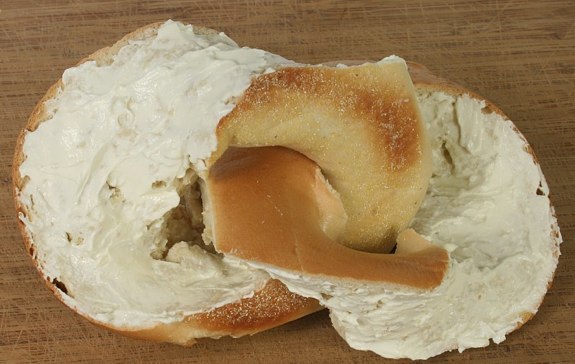 Here's a cool food hack that we just came across and had to share. Did you know that you can technically slice a bagel in such a way that the two halves are linked? Even better, when cut this way you get a little more surface area than the old school slice, which means that you can technically fit a bit more spread and goodness on it as well. Don't believe me? Hit the link below for the full details, with diagrams on showing exactly where to cut the bagel and everything.
Read More
| Mobius Sliced Linked Bagel

Posted by Janie Franz Categories: Health, Science, Food Trivia, Fruit, Vegetarian
The old adage, "An apple a day, keeps the doctor away," may not be just something our grandmother's told us. Apples, members of the rose family, are portable nutrition packages that are quite tasty.
Apples have been found to reduce the risk of stroke and Type II diabetes and to improve bowel function. Flavonoids, abundant in apples, help prevent the growth of prostate cancer cells, and phytochemicals in the skin of apples seem to inhibit the reproduction of colon cancer cells. Two recent studies indicated that eating five apples a week helped lower the risk for respiratory diseases like asthma. Apples also help protect arteries from plaque build up, and eating two apples a day or drinking a 12 ounce glass of apple juice reduced the effects of cholesterol. Also, pectin and other acids in apples help aid digestion. That's why apples are great served with rich foods like pork or lamb or duck.
Apples have more nutrients if eaten raw with their skin, but they should be washed thoroughly. Just under that wonderful colored coat lies half of the Vitamin C content of the apple. The skin also has lots of fiber and is the source of the apple's characteristic fragrance.
A raw medium apple (two and a half inches in diameter), eaten with the skin, has only 80 calories, 5 grams of fiber, and is a great source of potassium. It also contains calcium, phosphorus, iron, and Vitamin C and A. The apple is composed of 80-85 percent water, 5 percent protein, and 10-15 percent carbohydrates. It also is sodium free and fat free.
Apples also are 25 percent air. That is the reason why they float when you put them in a tub of water at Halloween parties and dunk for them.
Posted by Janie Franz Categories: Snacks, Science, Food Trivia, Storage Tips, Fruit
A recent study by the US Department of Agriculture found that the temperature you store watermelons has an effect on how much lycopene and beta-carotene they have. They found that storing watermelons at room temperature (70 degrees F) increased the lycopene the melon produced by 40 percent and beta-carotene up to 139 percent. The human body converts beta-carotene into vitamin A.
Also, they found that if you put that succulent melon in the fridge at 41 degrees F, it will start to decay within a week. But you can store them between 50 and 70 degrees for up to three weeks, letting these green packages continue to make nutrients that are good for your body.
It is suggested that you store the melon at these temperatures. Then chill your melon a few hours before your picnic or backyard barbecue. You'll see enjoy that refreshing cold watermelon that has come to mean summer for a lot of folks, and you'll get more nutrition with each juicy bite.
Posted by Janie Franz Categories: News, Science, Trends
No, that's not some obscure reference to the Revolutionary War. It's a real proposal by the AMA. If this organization of doctors had its way, salt and the products that are made with it will come with a warning label, and sugary products will have an added tax. At the national convention this past June, the American Medical Association announced a manifesto against salt and sugar, two products that physicians have said contribute to high blood pressure, heart disease, and obesity. The AMA wants salt removed from the federal dietary guidelines as a safe food, equating it with saccharin and the cancer scare decades ago. These physicians also want restaurants to be regulated and monitored for the amount of salt added to foods during preparation.
True, Americans do consume too much salt and sugar, but to regulate these natural food additives as the government regulates tobacco and alcohol seems like overkill. Will that really keep Americans from reaching for the salt cellar at home, instead of the Mrs. Dash or stocking their fridges with soft drinks?
© Gear Live Media, LLC. 2007 – User-posted content, unless source is quoted, is licensed under a Creative Commons Public Domain License. Gear Live graphics, logos, designs, page headers, button icons, videos, articles, blogs, forums, scripts and other service names are the trademarks of Gear Live Inc.